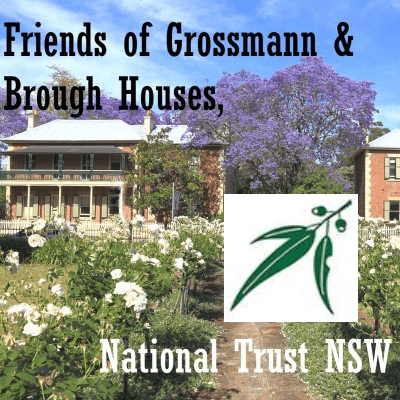 Friends of Grossmann & Brough Houses, National Trust NSW
The Friends of Grossmann & Brough Houses manage the two National Trust Maitland Properties – Grossmann & Brough Houses in Church Street, Maitland. Built in 1870 by business partners, Samuel Owens and Isaac Beckett, these mirror imaged two story Victorian townhouses are an important part of the heritage of Maitland. Set in beautiful grounds, Grossmann House is a fully restored house museum, open for guided tours on the second Sunday of the month, or by arrangement. Brough House is used for catering of fundraising events, exhibition space, bespoke venue hire, and upstairs, the developing Fibre Makers Space and home of the annual Artist in Residence Programme. Most of our events raise necessary funds for the ongoing maintenance of the properties.
We also have a virtual tour of Grossmann House which can be viewed on our facebook page, as well as on our Grossmann Brough National Trust website.
Phone: N/A

Email: grossmann@nationaltrust.com.au

Location: 73 Church Street, Maitland NSW 2320
Our Committee
The leadership of Maitland Business Chamber comprises an elected board of up to 12 members including the President, Vice-President, Treasurer, Secretary and Executive Members who commit on a voluntary basis.
Our Charter
We adhere to the values of Integrity, Strong leadership, Improvement and Development, Excellence and Innovation, Transparency and the highest standards of Professionalism and Ethics
Can Do Business
We provide comprehensive and ongoing support to local businesses in the Maitland region by lobbying all levels of Government, representing the local business community and connecting businesses within and outside our region.