The Next Economy For Maitland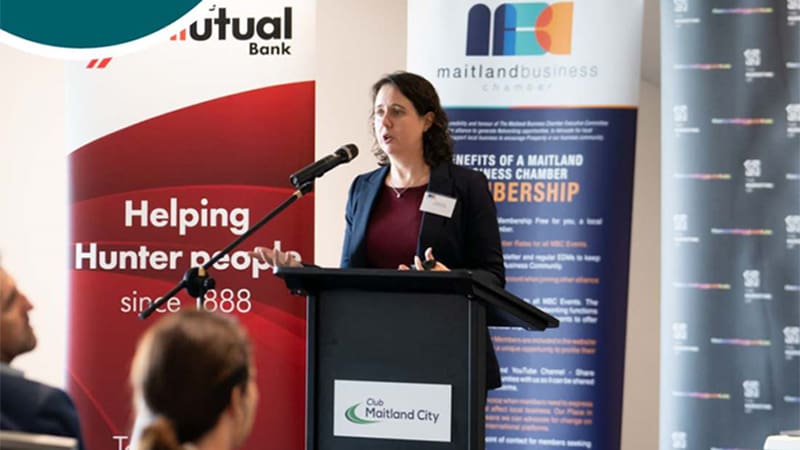 Sometimes momentous contributions can be missed because they are delivered in a quiet way. So it was that for those who were present at the Maitland Business Chamber's September Networking event witnessed a powerhouse at work.
Dr Amanda Cahill took time from a very busy schedule to address a large group of members and out of LGA guests to discuss the transformation of our economy as we approach net zero emissions.
Dr Cahill continues to be referenced and consulted by governments from the highest level of our Federal Government to local councils like Maitland, leading the way in effectively managing the transition from fossil fuel based economic prosperity to alternate sources of economic wellbeing.
With experience in regional areas such as Gladstone in Queensland, she talked with MBC members about the need for leadership and proactivity as we face the challenges ahead. Her ongoing focus is on helping regions grow resilience and creative thinking to regional populations facing rapid change due to the transition taking place in our nation's energy industry. Bringing this experience to Maitland was greatly appreciated by the businesses and stakeholders who attended with subsequent discussion around appropriate timelines and the role local business will need to play.
With members taking much of her advice on board, the next steps will be up to us. We sincerely thank Dr Cahill for her time and ongoing commitment to regional populations around Australia. You can download her lauded report "What Regions Need" from her company's website and we sincerely hope to see her in our region again soon. here https://nexteconomy.com.au/work/webinar-what-regions-need/
The MBC would like to thank our Gold & Silver Sponsors for the event, The Mutual Bank and The Marketing GP for not only their sponsorships but also their attendance and contribution to the discussions on the day.