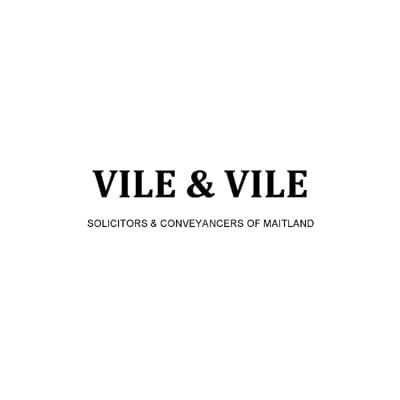 The Maitland Law practice known as Vile and Vile Solicitors was formed in 1990 as a partnership between June Vile (who began her own practice in 1977) and her son Andrew, now the current owner and sole practitioner of the firm.
 
Andrew received a Bachelor of Legal Studies degree from Macquarie University, Sydney, in 1981.
 
The practice serves clients throughout the Hunter Valley and NSW. Many of Andrew's clients have been with him for almost 40 years.
 
The principal areas of practice are:
 
· Sale and purchase of residential and commercial property
· Wills, Powers of Attorney and Appointments of Enduring Guardians
· Administration of deceased estates
· Other Elder Law matters, including Retirement Village Leases
· Sale and purchase of businesses
· Commercial Leases
· General legal advice
 
Andrew spent his formative years on a farm at Hillsborough (between Rosebrook and Lambs Valley) and his view on life generally is therefore very "grounded".
 
Andrew is heavily involved in his community, being (currently):
 
· An executive committee member of the Maitland Business Chamber
· An executive committee member of the Hunter Valley Law Society
· A board member of the Hunter Region Business Hub
· A member of Maitland Rotary Club
· A member of West Maitland Centennial Lions Club
 
Andrew is ably assisted by Belinda Palmer, a Paralegal and Justice of the Peace, who has been with the firm for 9 years, and Elly Aston, a Paralegal who has been with the firm for approximately 7 months.
 
Being a boutique legal practice, Andrew and his staff can provide prompt, professional and personal service. Modern technology is coupled with good "old fashioned" service and thoroughness.
Phone: 02 4933 5607

Email: andrew@vileandvilelaw.com

Location: 46 Belmore Road Lorn NSW 2320
Our Committee
The leadership of Maitland Business Chamber comprises an elected board of up to 12 members including the President, Vice-President, Treasurer, Secretary and Executive Members who commit on a voluntary basis.
Our Charter
We adhere to the values of Integrity, Strong leadership, Improvement and Development, Excellence and Innovation, Transparency and the highest standards of Professionalism and Ethics
Can Do Business
We provide comprehensive and ongoing support to local businesses in the Maitland region by lobbying all levels of Government, representing the local business community and connecting businesses within and outside our region.