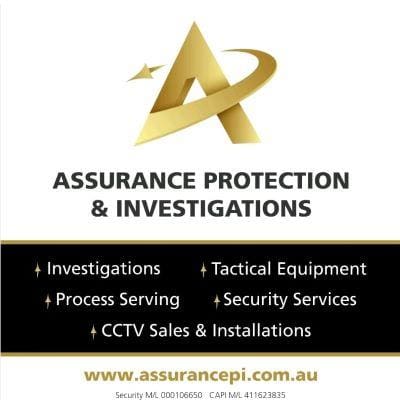 Assurance Protection & Investigations
Assurance Protection & Investigations provides security services including security guards, alarm response & patrols and CCTV sales & Installation.
We are also a mercantile company providing services such as debt recovery, repossessions, lockouts, Private Investigation, Skip tracing, field calls and process serving.
We also have an online and physical store providing CCTV, duty gear, security accessories & apparel, scented candles, First Aid, Fire Safety products & services and cleaning services.
Sarah is also a Justice of the Peace.
Phone: 02 4037 5318

Email: admin@assurancepi.com.au

Location: 18C/121 Lawes Street, East Maitland New South Wales 2323
Our Committee
The leadership of Maitland Business Chamber comprises an elected board of up to 12 members including the President, Vice-President, Treasurer, Secretary and Executive Members who commit on a voluntary basis.
Our Charter
We adhere to the values of Integrity, Strong leadership, Improvement and Development, Excellence and Innovation, Transparency and the highest standards of Professionalism and Ethics
Can Do Business
We provide comprehensive and ongoing support to local businesses in the Maitland region by lobbying all levels of Government, representing the local business community and connecting businesses within and outside our region.